Mary's Powerful Prayer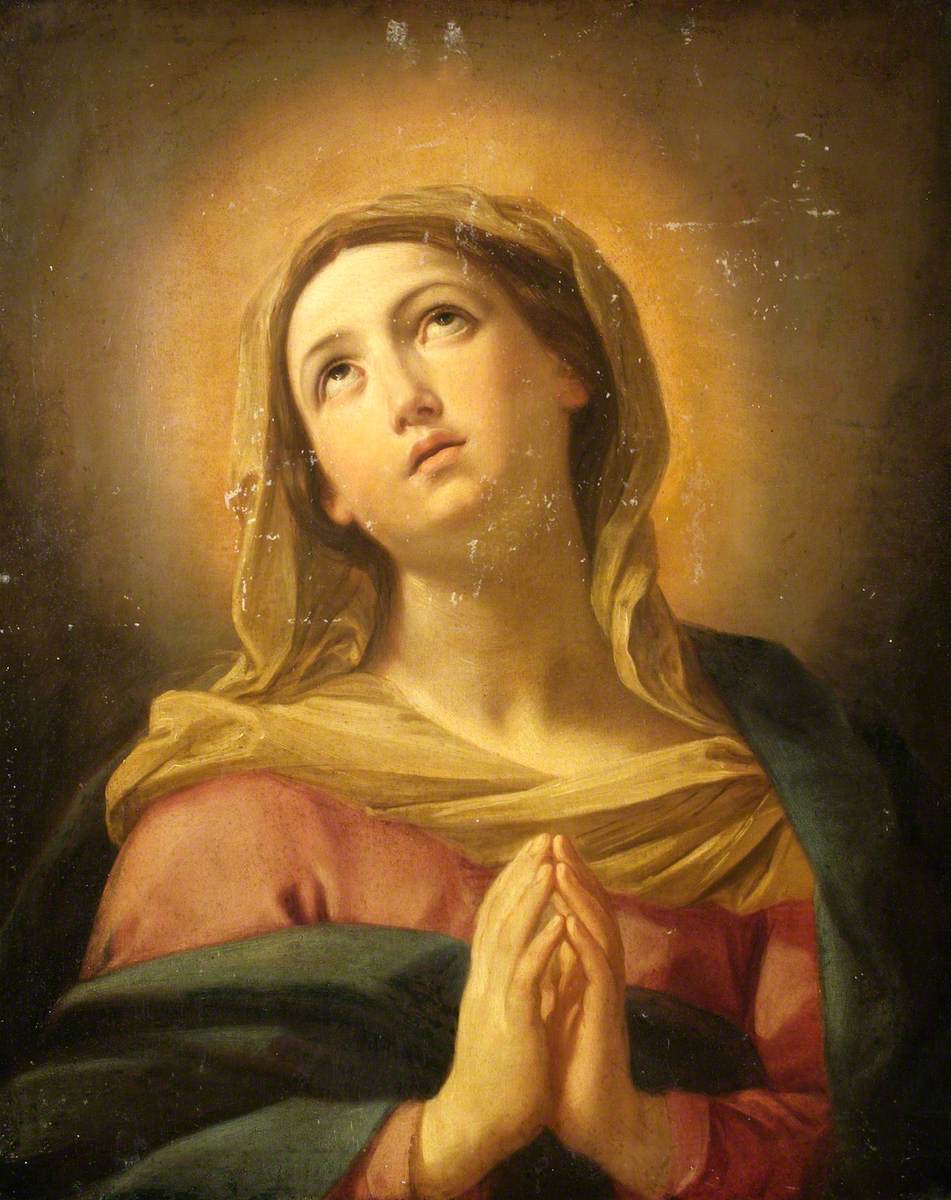 During the last days of Advent, the seven days that precede the birth of the Lord, the Church uses the 'O Antiphons' which all start in a similar manner: 'O Wisdom…', 'O Sacred Lord…', 'O Root of Jesse…', 'O Key of David…', 'O Radiant Dawn…', 'O King of all the nations…', 'O Emmanuel…'. (See Antiphons at the end of this article)
These antiphons are called the 'O Antiphons', because they all open with a literary expression of longing: 'O'. This short expression, i.e. 'O', embodies and voices a deep longing, a suffering that calls for the Redeemer, the Saviour, who alone can save us from our darkness and suffering, our prison of sin that distances us from God. Each day, the 'O' is accompanied by one of seven different names of the Messiah Saviour.
These Antiphons belong to Vespers (Evening Prayer), and they are placed right before the Magnificat – Mary's Prayer – and are repeated after it. They Crown the Magnificat. Why? What, then, is their true meaning? How are we ourselves praying them?
Mary is the central figure of Advent. Why is this so? Not only because she is pregnant with the Lord, but also because – as St. Bernard puts it in a very famous Sermon 'Super Missus Est' – she is the only one capable to:
attract God, and
receive Him in Her.
We, on the other hand, take His coming into the world for granted. We take Christmas Grace for granted, as if humanity has no role to play in it. But calling Him, attracting Him is a very important and vital mission in our spiritual life.
Mary is the Immaculate Vessel or Wine skin capable of receiving Him. She belongs to the New World of Redemption; she is the first person saved (see the meaning of the mystery of the Immaculate Conception).
But it is very important to notice that before receiving Him in her heart and flesh, she exercised a very forceful and unique power of attraction over God, almost extracting Him from His Eternal sojourn, with her unfathomable yearnings and longings. Who can understand Mary's prayer before the Annunciation? Who can understand the immense power of attraction her prayer has over God?
In light of this, then, we can safely assume that these seven Antiphons are first and foremost hers. Nobody can utter them in a fruitful way outside of Mary. Let us remember St. Bernard's teaching in his famous sermon 'Super Missus Est' : the whole world, he seemed to say, was suspended to your lips waiting for you to say 'yes' to the Angel. This was the case because nobody was capable of believing and receiving the Lord. This same truth of our incapacity should also be applied to her yearnings. Nobody was able to attract the Lord except her. Her prayers alone were able to exercise this unique effect over God, to make Him come out of himself, become incarnate in her. She hastened His coming by attracting Him so powerfully.
We just simply, and much later, become aware that she uttered her yearnings while having all humanity in Her Heart. i.e. she uttered these yearnings both in her name and in ours. We become aware that because of her immense charity, containing all of us in her heart, and our yearning for the Messiah, these Antiphons become ours. What a mystery!
As a consequence, entering in Her, and being united to her, while understanding all together the mystery of her longings and of the charity toward us, we feel we are called to take the place that God had reserved for us in Mary during her Yearnings and so yearn with her, in her.
Let us, then, join in Mary's Longings, and by her powerful prayer attract the Lord to Our thirsty world wandering in the darkness.
Maybe this is the reason why the Angel says to Mary: 'you have found favour with God' (Luke 1:30). i.e. your yearnings Mary have achieved their Goal, you are attracting the Messiah. You hastened His Coming. Your yearnings Mary are marvellous and pleased God because you weren't yearning and attracting God in your name only, but in the name of all humanity. You pleased God and seduced Him, so that He hastened and came to dwell in your heart and in your womb.
Today, by joining Mary and by praying the Antiphons, we fulfil our role toward all our brothers and sisters who do not know Jesus, even those Christians who are very far from God or lukewarm or who have regressed in their journey of growth. We have an important role to play, but 'in Mary'… indeed, these yearnings are a very deep mystery.
It is important to pray this way during the day. As the day progresses, we can repeat the first part of them as a short ejaculatory prayer, or short prayer, or arrow prayer, or aspiration. It is of the essence to join Mary in her prayer and increase Her Yearning to attract the Messiah for our brothers and sisters. We can ask God to shower amazing graces on our world. Let us play our role to its fullness, i.e. in Mary.
Each Antiphon is supposed to exercise the power of attraction over God. If it starts with an 'O' that embodies our call and prayer, it ends with a powerful: 'come…'. Let us, then, unite ourselves to Mary, let us understand that she is the one par excellence who says to the Lord: 'Come…" and let us humbly join her in saying fervently, with her and in her to the Lord Jesus: 'Come…' to our world… shower your infinite and incredible unexpected Mercy on all of us thirsty for Light and Love, and the New World.
Who can understand the power the New Eve has over God? Here are some very deep indications in the Scriptures:
'You have captivated my heart, my sister, my bride; you have captivated my heart with one glance of your eyes, with one jewel of your necklace. How beautiful is your love, my sister, my bride! How much better is your love than wine, and the fragrance of your oils than any spice!' (Song of Songs 4:9-10)
'A garden locked is my sister, my bride, a spring locked, a fountain sealed. Your branches are an orchard of pomegranates with the choicest of fruits, with henna and nard, nard and saffron, calamus and cinnamon, with all trees of frankincense, myrrh and aloes, with all choice spices—a garden fountain, a well of living water, and flowing streams from Lebanon.' (Song of Songs 4:12-15)
'You are beautiful as Tirzah, my love, lovely as Jerusalem, awesome as an army with banners. Turn away your eyes from me, for they overwhelm me — Your hair is like a flock of goats leaping down the slopes of Gilead.' (Song of Songs 6:4-5)
'How beautiful and pleasant you are, O loved one, with all your delights! Your stature is like a palm tree, and your breasts are like its clusters.' (Song of Songs 7:6-7)
'the fragrance of your breath like apples, and your mouth like the finest wine. May it flow smoothly to my beloved, gliding gently over lips and teeth. I belong to my beloved, and his desire is for me. Come, my beloved, let us go to the countryside; let us spend the night among the wildflowers.' (Song of Songs 7:9-11)
Jean Khoury
Advent 2020
Schoolofmary.org
Advent 'O' Antiphons
One can pray during Advent, asking for Jesus coming using the O Antiphons that we find in each Vespers, for the Magnificat, starting from the 17th December. These are deep prayers of desire, sang with Mary and under her light in order to attract the Lord:
17th December
O Wisdom,
O holy Word of God,
you govern all creation with your strong yet tender care:
Come and show your people the way to salvation.
O Sapientia,
quae ex ore Altissimi prodiisti,
attingens a fine usque ad finem fortiter,
suaviterque disponens omnia:
veni ad docendum nos viam prudentiae.
18th December
O Sacred Lord
of ancient Israel,
who showed yourself to Moses in the burning bush,
who gave him the holy law on Sinai mountain:
Come, stretch out your mighty hand to set us free.
O Adonai,
et dux domus Israël,
qui Moyse in igne flammae rubi apparuisti,
et ei in Sina legem dedisti:
veni ad redimendum nos in brachio extento.
19th December
O Root of Jesse,
you have been raised up as a sign for all peoples;
kings stand silent in your presence;
the nations bow down in worship before you.
Come, let nothing keep you from coming to our aid.
O Radix Jesse,
qui stas in signum populorum,
super quem continebunt reges os suum,
quem gentes deprecabuntur:
veni ad liberandum nos,
jam noli tardare.
20th December
O Key of David,
O royal Power of Israel,
controlling at your will the gate of heaven:
Come, break down
the prison walls of death
for those who dwell
in darkness and the shadow of death;
and lead your captive
people into freedom.
O Clavis David,
et sceptrum domus Israël,
qui aperis, et nemo claudit,
claudis, et nemo aperuit:
veni, et educ vinctum
de domo carceris,
sedentem in tenebris,
et umbra mortis.
21st December
O Radiant Dawn,
splendor of eternal light,
sun of justice:
Come, shine on those who
dwell in darkness
and the shadow of death.
O Oriens,
splendor lucis aeternae,
et sol justitiae:
veni, et illumina
sedentes in tenebris,
et umbra mortis.
22nd December
O King of all the nations,
the only joy of every human heart;
O Keystone
of the mighty arch of man:
Come and save
the creature you fashioned from the dust.
O Rex Gentium,
et desideratus earum,
lapisque angularis,
qui facis utraque unum:
veni, et salva hominem,
quem de limo formasti.
23rd December
O Emmanuel,
king and lawgiver,
desire of the nations,
Savior of all people:
Come and set us free,
Lord our God.
O Emmanuel,
Rex et legifer noster,
expectatio gentium,
et Salvator earum:
veni ad salvandum nos,
Domine, Deus noster.
If you want to listen to the sang Antiphons in Latin please click here for the playlist.
On can also meditate on this beautiful Latin hymn: "Rorate Ceali de Super", where we ask God to send us His Rain (the Eternal Son) on Mary the Good Soil, so we can have our Saviour. All inspired from Isaiah. For more details see here.
Latin
English
Roráte caéli désuper,
et núbes plúant jústum.
Drop down, ye heavens, from above,
and let the skies pour down righteousness.
Ne irascáris Dómine,
ne ultra memíneris iniquitátis:
ecce cívitas Sáncti fácta est desérta:
Síon desérta fácta est, Jerúsalem desoláta est:
dómus sanctificatiónis túæ et glóriæ túæ,
ubi laudavérunt te pátres nóstri.
Be not wroth very sore, O Lord,
neither remember iniquity for ever:
thy holy city is a wilderness,
Sion is a wilderness, Jerusalem a desolation:
our holy and our beautiful house,
where our fathers praised thee.
Peccávimus, et fácti súmus tamquam immúndus nos,
et cecídimus quasi fólium univérsi:
et iniquitátes nóstræ quasi véntus abstulérunt nos:
abscondísti faciem túam a nóbis,
et allisísti nos in mánu iniquitátis nóstræ.
We have sinned, and are as an unclean thing,
and we all do fade as a leaf:
and our iniquities, like the wind, have taken us away:
thou hast hid thy face from us:
and hast consumed us, because of our iniquities.
Víde Dómine afflictiónem pópuli túi,
et mítte quem missúrus es:
emítte Agnum dominatórem térræ,
de Pétra desérti ad móntem fíliæ Síon:
ut áuferat ípse júgum captivitátis nóstræ.
Behold, O Lord, the affliction of thy people,
and send forth him whom thou wilt send;
send forth the Lamb, the ruler of the earth,
from Petra of the desert to the mount of the daughter of Sion:
that he may take away the yoke of our captivity.
Vos testes mei, dicit Dóminus,
et servus meus quem elégi;
ut sciátis, et credátis mihi:
ego sum, ego sum Dóminus, et non est absque me salvátor:
et non est qui de manu mea éruat.
Ye are my witnesses, saith the Lord,
and my servant whom I have chosen;
that ye may know me and believe me:
I, even I, am the Lord, and beside me there is no Saviour:
and there is none that can deliver out of my hand.
Consolámini, consolámini, pópule méus:
cito véniet sálus túa:
quare mæróre consúmeris,
quia innovávit te dólor?
Salvábo te, nóli timére,
égo enim sum Dóminus Déus túus,
Sánctus Israël, Redémptor túus.
Comfort ye, comfort ye my people;
my salvation shall not tarry:
why wilt thou waste away in sadness?
why hath sorrow seized thee?
Fear not, for I will save thee:
For I am the Lord thy God,
the Holy One of Israel, thy Redeemer.
S